MD Diary Sticker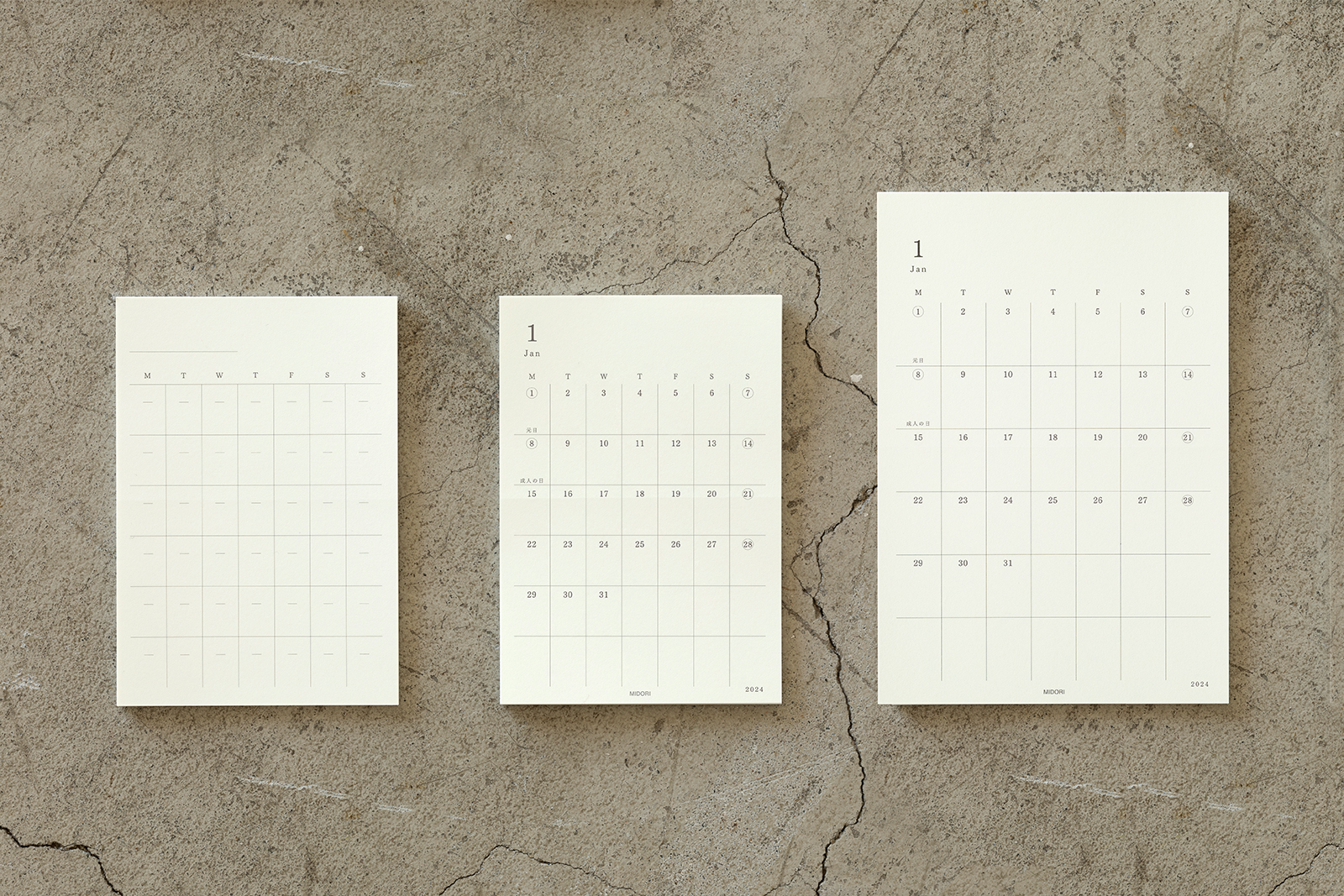 Attach to your notebook to organize your plans,
events and thoughts for the day
Calendar apps are fine for making lists. But while they make it easy to see what you have done and what's coming up, they aren't quite as useful for keeping track of your thoughts and ideas.
When you write something down, it helps you process.
There is something special about the way the hand moves across an actual page, and this is why we have created a calendar that utilizes the special appeal of MD Notebook.
A new bonus sticker type is included.
The MD Diary Sticker is made from MD PAPER, so when you stick it to your MD Notebook, it all feels like it is still the same single notebook.
While new features have been added, the MD Notebook remains unchanged.
Attach it to the thin MD Notebook Light for an easy-to-carry diary.
There are no set rules, so customize it to suit your own style!
MD Diary Sticker contains 16 sheets total: 14 month-long calendars (from Dec. 2023 to Jan. 2025) and two year-long calendars (2024, 2025).
With no printed months or days, you can design the calendar of your diary any way you want.
Have you ever written your plans in a calendar and found that there wasn't enough space?
With stickers instead of printed months and days, MD Diary Sticker Free gives you all the freedom you need in a calendar.
And since some months are so busy that one sheet isn't enough, MD Diary Sticker Free comes with 16 blank sheets.
Made from MD PAPER, the sheets of MD Diary Sticker Free will look like they were are always a part of your MD Notebook.
Stick them in the notebook of your choice and arrange them to make your diary just the way you want it.
---
Lineup
MD Diary Sticker 2024 [S]
22277006
MD Diary Sticker 2024 [M]
22278006
MD Diary Sticker Free
84794006
---
Specification
MD Diary Sticker [S]
MD Diary Sticker [M]
MD Diary Sticker Free
Size
H138×W95mm
H172×W118mm
H138×W95mm
Package Size
H138×W105×D8mm
H172×W128×D8mm
H138×W105×D8mm
Weight
approx.56g
approx.84g
approx.55g
Specification
Monthly schedule 14 sheets / Annual calendar 2 sheets
Blank month-long calendar stickers ...16 sheets