MD Notebook Light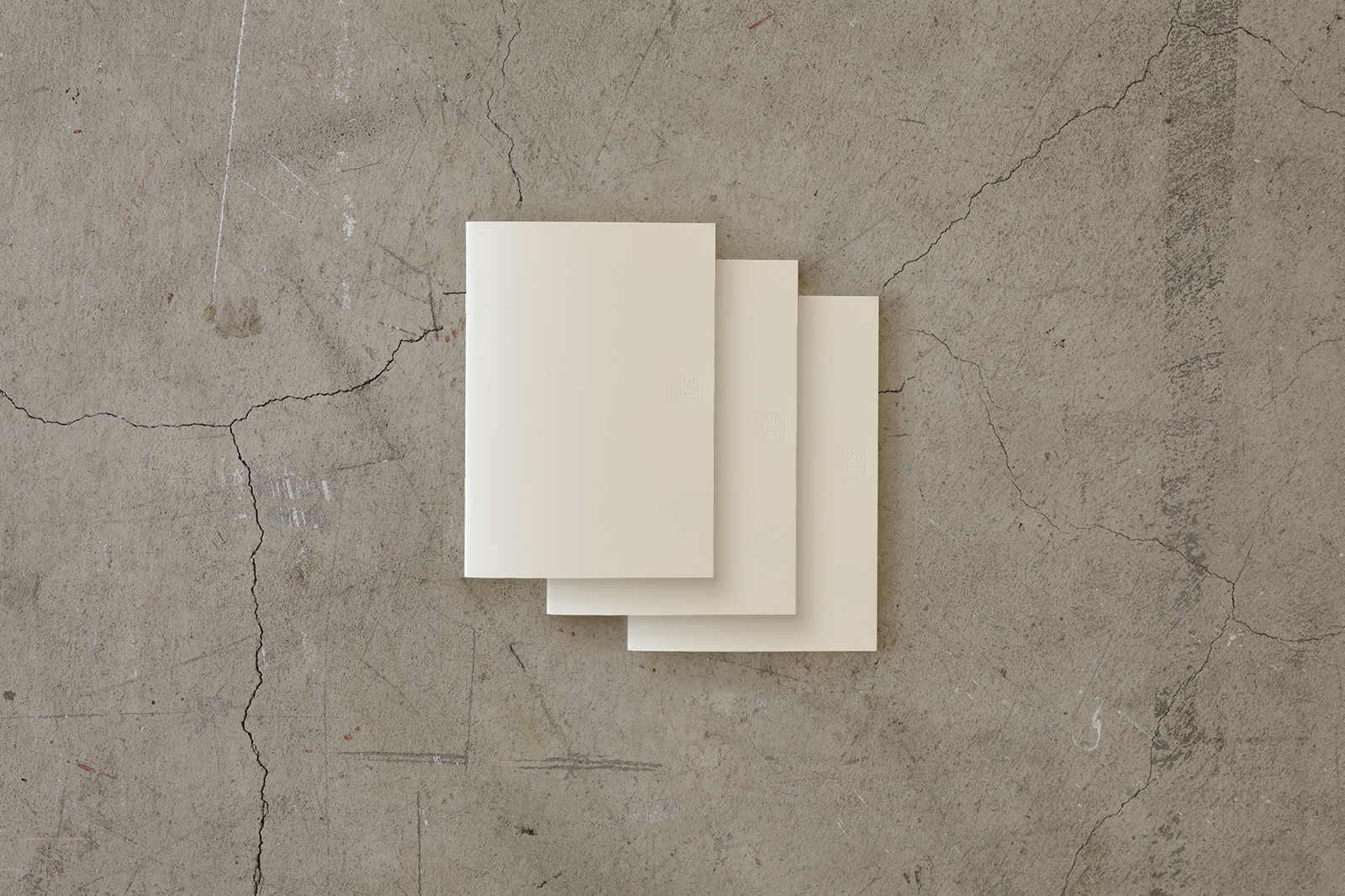 Jot down your sources of
inspiration anywhere, at any time
Writing by hand is different from a keyboard, where each letter appears with a single touch.
More care is needed, and the process is different.
Every letter, every picture and diagram, is made up of lines.
When you write and draw by hand, you are taking your time and putting thought into each line that you draw.
That stimulates your mind, and it is from here that inspiration is born.
MD Notebook Light allows you to jot down your ideas anywhere, at any time.
MD Notebook Light comes in a set of 3, each with 48 pages.
Whether you use them one at a time or use each one for a different purpose, this compact package is designed to flexible enough to suit your needs.
This slim, light notebook allows you to write down ideas instantly.
Keep it in your bag or your jacket or pants pocket so that it's close at hand when inspiration strikes.
You can even fold the pages all the way around and hold it in one hand, allowing you to write while standing.
MD Notebook Light comes in the same four sizes as the standard MD Notebook, along with a new compact A7 size.
Choose from the classic A6 and B6 Slim sizes used for diaries, an A5 size that matches the size of a planner or tablet, and an A4 size that provides plenty of room for writing.
The new A7 size fits in your palm, pocket or bag so that you can pull it out and take notes any time.
Each person uses their notebook differently. Some draw pictures, some write down ideas, some create diagrams to arrange information.
MD Notebook Light is available blank, with lines or with a grid, so that no matter what you need out of a notebook, there's something for you.
Indexing is a great way to divide your content into themes.
MD Notebook Light comes with index tabs that you can attach to your notebook to customize it. Create your own original chapters and mark them so you can see each one at a glance.
After you divide each volume of your MD Notebook Light into chapters, you can make each notebook into a part of a compendium.
MD Notebook Light is also slim and light enough to fit two volumes of the A5 size in the MD Notebook Cover.
Gallery
---
---
Specification
A7
A6
B6 Slim
A5
A4 Variant
Size
H105×W74×D3mm
H148×W105×D3mm
H175×W105×D3mm
H210×W148×D3mm
H275×W210×D3mm
Package Size
H105×W84×D15mm
H148×W115×D15mm
H175×W115×D15mm
H210×W160×D15mm
H275×W220×D15mm
Weight
approx.61g / 3pcs
approx.120g / 3pcs
approx.141g / 3pcs
approx.237g / 3pcs
approx.436g / 3pcs
Inner Paper
48pages
Specifications
3pcs pack / Label stickers / Saddle Stitched
| | |
| --- | --- |
| | [LIMITED EDITION] MD Notebook Light Grid 7 Color Set |
| Size | H210×W148×D5mm |
| Package Size | H216×W153×D36mm |
| Weight | approx. 773g |
| Inner Paper | 64page |
| Specifications | 7 colors / Center sewn binding |