Notebook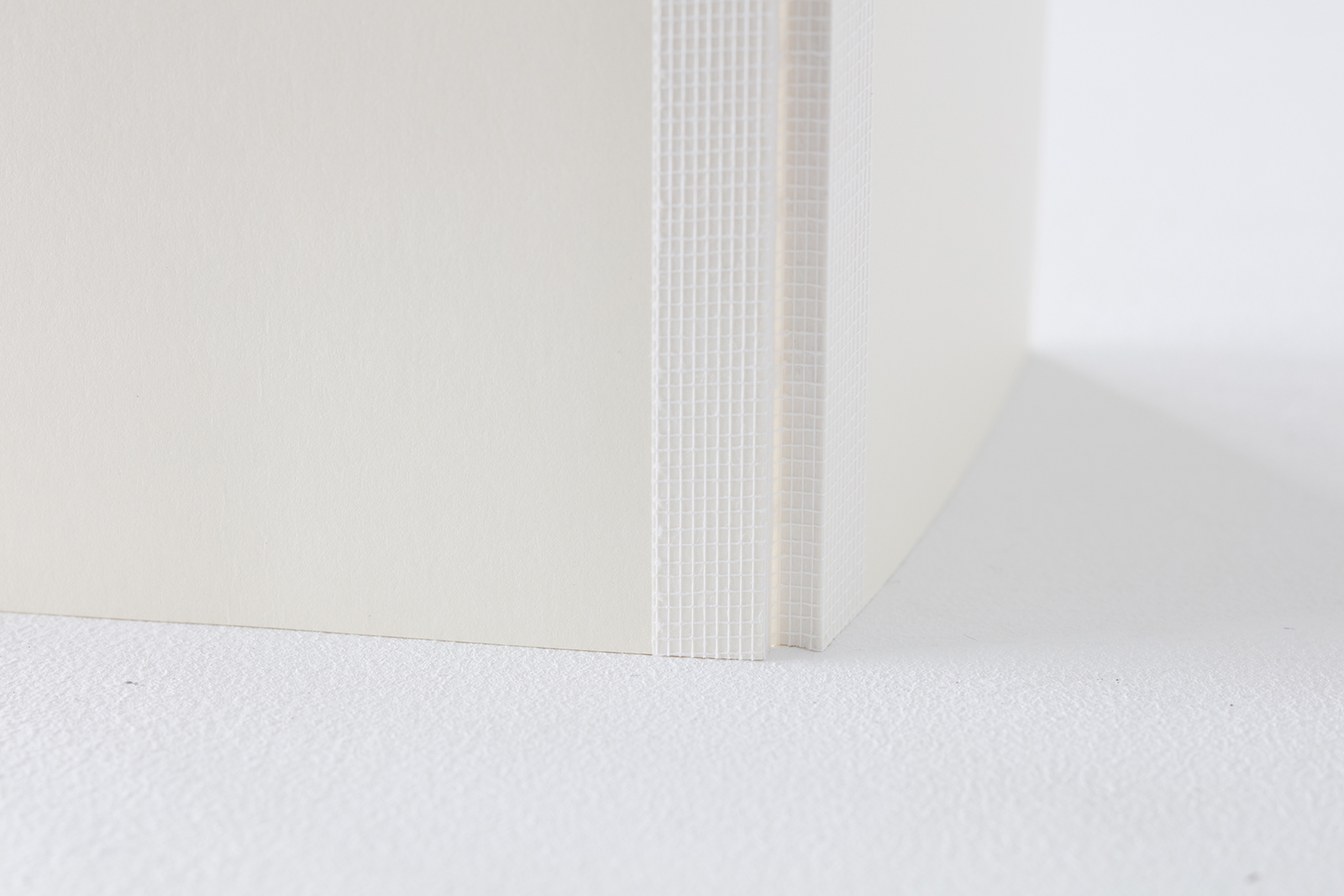 That delivers paper of the utmost appeal,
Removing every last excess
To ensure products of the highest standard
Leonardo da Vinci once said that "Simplicity is the ultimate sophistication".
One might be tempted to think that by removing all decoration and refining something to its simplest essence, one removes that which makes it unique.
However, when one simplifies something to its essence, it means that those elements are utilized to their fullest extent.
By pursuing the utmost simplicity as our highest standard, we unlock an object's true uniqueness.
Heat is used to dry the bond, after which excess thread is removed.
Normally, the next step would be to apply a super, but this alone would not provide sufficient strength for the MD Notebook. Instead, a strip of washi tape is attached to the inside of the flyleaf (inside of the front) to connect the back of the front pages to the pages inside.
Though it may seem somewhat inconsequential, the five or six seconds after the glue is applied are extremely important because this is when the glue gains its adhesive strength.
As a final step, any excess is cut from the three edges of the notebook, and a colorful string, another hallmark of the MD Notebook, is added. Final quality checks are made before the notebooks are wrapped in paraffin paper to conclude the process.
Starting with the water refining process used to ensure the pulp has the proper paste-like consistency, the construction of the MD Notebook is like a living thing made up of many processes, people and machines all working in harmony.
Any living thing must rest to gain the strength to work. The MD Notebook is given time to rest between pressing and other processes described above. First, after being folded, a leveling process is applied. The quires are laid on their sides with weights applied, stitched, and then the spine is immediately pressed. Pressing after stitching is the most important part of all these processes and given the highest priority no matter how busy the factory is.
Pressing occurs again after the fly leaf and inserts are attached. After the string is attached, the product is rested for at least a week before inspection.
Some elements simply have to be removed in order to ensure the perfect combination of beauty and functionality. But each stage of the manufacturing process must be completed carefully and diligently to ensure stable product quality.
Other than inspections, basic manufacturing is carried out by machines.
Their pace is rhythmic and quick, progressing as only machines can.
But amongst their clanking and whirring, it is our highly skilled craftspeople who control the machines and ensure the quality of our products.
The environment in which we craft the MD Notebook changes slightly every day, and our craftspeople use all of their senses and extensive experience to fine tune the machines, optimizing them to ensure outstanding product quality w ion.
Gallery
---